Bbq accessories
Are you looking for BBQ Accessories? Here, you'll find everything you need to take your outdoor cooking game to the next level. Whether you're a seasoned pro or a beginner, we have a wide selection of high-quality BBQ accessories that will help you create delicious meals and make your BBQ experience more enjoyable. From grilling tools and utensils to smoking chips and sauces, we have everything you need to create the perfect BBQ. Our products are made from the highest quality materials and are designed to last, so you can enjoy using them for years to come. So, whether you're planning a backyard BBQ party or just looking to up your grilling game, browse our selection of BBQ accessories and find the perfect tools to make your outdoor cooking experience even better! Discover our range and buy your favourite products online.
Everything you need for a bbq night
Everything you may need in terms of accessories to make your BBQ into a success you will find at Fernhill. Whether you want to deep clean your steals, or try out some new charcoal, we've got it for you. For advice on how to best look after your BBQ buddy, you are more than welcome to visit our garden centre in Athlone. Our employees are well informed and more than glad to help you and answer any questions you may have.
Starting your BBQ with woodchips
When it comes to starting a BBQ, using woodchips can add a delicious smoky flavour to your meat. Weber Beef Woodchips are a popular choice for adding a bold and rich flavour to your beef dishes. On the other hand, Weber Poultry Woodchips are specifically designed to complement the lighter taste of poultry, making them a great option for chicken and turkey dishes. Beech Woodchips, on the other hand, offer a milder smoky flavour that pairs well with a variety of meats. All of these woodchip options are perfect for use with Weber charcoal or gas grills, and are a simple and easy way to add an extra depth of flavour to your BBQ dishes.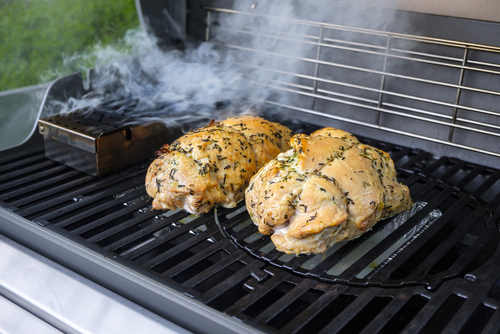 Clean your BBQ
To optimise the use and enjoy the quality of your BBQ it is important to take good care of it. One way of doing this is by cleaning it regularly. Invest in a steal brush for that deep clean and trust us; you won't regret it. With the Weber microfiber cloth you will reach that shine without having to scrub and scrub for hours.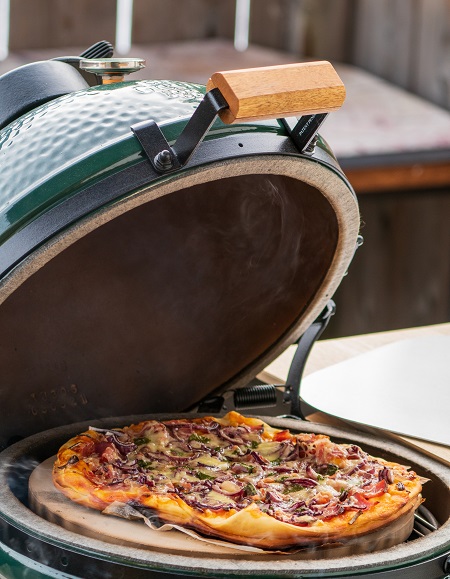 A safer BBQ experience
When it comes to barbecuing, using a smoker box or chimney starter can greatly enhance the quality of your food. A smoker box is a metal container that can be filled with wood chips and placed directly on the grill. This allows the wood chips to smoulder and release their flavour, infusing your food with a delicious smoky taste. A chimney starter, on the other hand, is a metal cylinder that can be used to light charcoal quickly and easily, without the need for lighter fluid. This not only makes the process safer, but it also ensures that your food won't have any unwanted chemical flavours. Both smoker boxes and chimney starters are great tools to have in your barbecue arsenal, allowing you to achieve the perfect smoky flavour in your meats and vegetables.
BBQ accessories professionalise your experience
By getting the right accessories you will enable yourself to take your barbecue experience to the next level. With the Weber Original Premium Tool Set you can really get to work from the right angle. This set will leave you wondering how you ever managed to live without. Choose the base for your initial fire and have a look at either wood chips or the classic charcoal options.
But what about the pizza you'd like to grill or the chicken that needs roasting? We've got the tools for that. The Weber Pizza Paddle will help you slide your pizza in with a firm grip. Want to see if your rotisserie chicken is cooked and ready to be served? The Weber Thermometer will do just that for you. Cook with attention and serve the people that you love a meal they enjoy.
The best BBQ experience with Fernhill
At Fernhill, we offer a one-stop-shop for all your BBQ needs, including a wide selection of BBQ accessories that you can buy online from the comfort of your home. From grilling tools and utensils to smoking chips and sauces, we have everything you need to create the perfect BBQ. We also offer a great selection of the best BBQs, covers, pizza ovens, and other outdoor cooking equipment, so you can find everything you need to create the perfect outdoor cooking space. And with our great offers, you can get the best deals on high-quality BBQ accessories and equipment. Whether you're a seasoned pro or a beginner, Fernhill has everything you need to take your outdoor cooking game to the next level. So why wait? Browse our selection of BBQ accessories and equipment today and start creating the perfect BBQ experience!
Want to become a true grillmaster? Sign up for our Summer BBQ Cookery Course and learn everything from the BBQ pros!