Bbq Covers
Keeping your barbecue protected from the elements is essential to ensure it lasts for years to come. Here, you'll find a wide range of high-quality BBQ covers to keep your grill protected from rain, wind, and UV rays. We understand that every grill is different, which is why we offer a variety of sizes and styles to ensure the perfect fit for your barbecue. Our covers are made from durable materials that are weather-resistant, ensuring they can withstand even the toughest outdoor conditions. At Fernhill, we pride ourselves on offering only the highest quality products, so you can trust that your BBQ will be protected by the best. Browse our selection of BBQ covers today and keep your grill in pristine condition for years to come! Select the right BBQ Cover for your BBQ. Do you need help? Visit our garden centre in Athlone.
Why cover up your BBQ?
Covering your BBQ with a high-quality cover, such as those from Weber, is essential to protect it from the elements and prolong its lifespan. Outdoor grills are exposed to harsh conditions such as rain, wind, and UV rays, which can cause damage to the grill's components, including the burners, cooking grates, and ignition system. Additionally, dirt, dust, and debris can accumulate inside the grill, making it harder to clean and potentially affecting the taste of your food. Weber BBQ covers are made from high-quality materials, such as durable polyester fabric that is UV and water-resistant, ensuring that your grill stays dry and protected from the elements. They also come in a variety of sizes and designs to fit your specific grill, providing a snug and secure fit. By investing in a Weber BBQ cover, you can ensure that your grill remains in top condition, ready for use whenever you need it, and extend its lifespan, saving you money in the long run.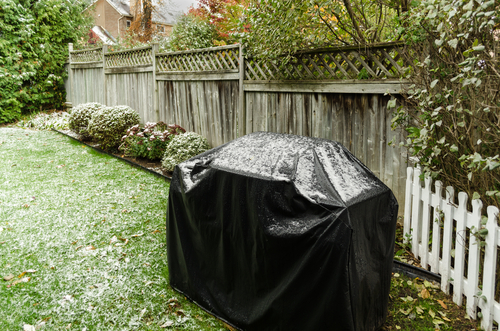 The cover that's got you covered
Get covered. The way you treat your barbecue at rest is of utmost importance when it comes to ultimate maintenance. You want to save its special qualities and guard it with a special cover designed for the model you own. Make sure your barbecue is protected from rain, sunshine, low /high temperatures and the wind as you cover it with a cover designed for guarding, protection and preservation of your favorite product.
Cover up your best friend
With the wintery weather coming up, we want to make sure our barbecues are safe and will be in their optimal states when we see them again after we get out of this winter season. For all sizes, shapes and designs, scroll through the options of BBQ covers available at Fernhill garden centre and find what protection will suit you best. The tight fit will protect it from all of the weather's influences while making it look tidy.
Visit Ferhill garden centre for the best fit
Pick out the best fit for your barbecue and make sure you offer protection during the cold rainy seasons. And with our great selection of the best BBQs, accessories, and many great offers, we are your one-stop-shop for all your outdoor cooking needs. For additional information or personal advice, visit our garden centre.