Savoury Fare Restaurant
Peckish? Everything is de-lish at Savoury Fare
Warm and welcoming, Fernhill's restaurant is an always-popular food oasis.
A sneaky treat with tea or coffee? A slap-up breakfast to start the day? Or a scrumptious lingering lunch? Whatever tempts you at Fernhill's Savoury Fare, deliciousness and the warmest welcome awaits...
The freshest local ingredients are prepared on-site and served with the broadest smile. In-house pastry chefs conjure up the most delectable desserts imaginable. And a mouthwatering choice of rolls, wraps, salads, sandwiches, paninis and homemade soups are available all day long A varied hot lunch menu is served daily from mid-day.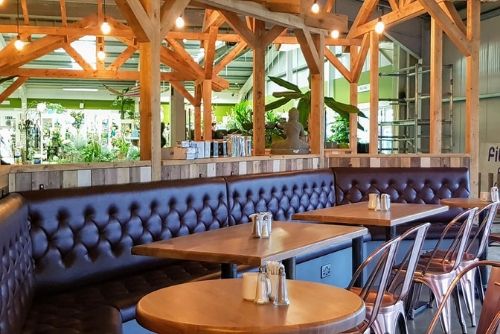 Opening Hours
Come in, we're open
Savoury Fare is open seven days a week. So whether you're planning a midweek meet-up, a weekend Fernhill walkabout, or simply yearn for a cuppa, pop in and make yourself at home.
Monday 9 am - 6 pm
Tuesday 9 am - 6 pm
Wednesday 9 am - 6 pm
Thursday 9 am - 6 pm
Friday 9 am - 6 pm
Saturday 9 am - 6 pm
Sunday 10.30 am - 6 pm
Award-winning
Savoury Fare at Fernhill won Best Newcomer at the Midlands 103 Hospitality Awards 2019 and was also voted Best Casual Dining Westmeath at the Restaurant Association of Ireland Food Oscars Awards 2019.