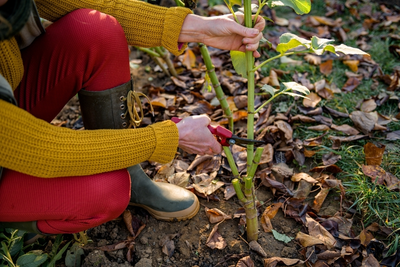 It's time to prepare your garden for autumn so you can be sure that your outdoor space is ready for the colder months ahead. It might seem too soon, especially if the weather is still warm and you have plenty of summer flowers still blooming, but autumn is a busy time of year for gardeners, so preparation is key. Here are some tips that we advise which will help your garden get ready for autumn and winter.
Clear up
Here in Fernhill we believe that leaving seedheads, piles of wood and plenty of spaces for insects and other wildlife to hibernate, feed and shelter is really important. Clearing up is about removing debris that could cause disease and ensuring the areas you walk are clean and clear so they are not a hazard when walking on them in wet conditions. Give your patio, decking and pathways a clean and rake leaves off the lawn to make leaf mulch.
Pruning and trimming
Our horticulturalists advise you to trim back any dead or overgrown branches from trees and shrubs, which will encourage healthy growth and prevent disease. Cut back the perennials you would like that have finished flowering to tidy up the garden and prepare for new growth in the spring, but remember to leave some for winter interest and wildlife.
Preparing your garden soil
Apply a layer of well-rotted organic mulch to your garden beds and borders. Mulch will help to retain moisture, regulate soil temperature, and suppress weed growth during the months when you'd rather be inside in the warm! Mulch breaks down over time and will help to enrich the soil. We have bark mulch available in store.
Protection is key
If you have tender plants, shrubs or trees that are not fully hardy, think about how you will protect them from frost. Some may be fine in a sheltered position, but some will need horticultural fleece or cloths. This will help prevent damage from freezing temperatures so they spring back to life the following year. For any enquires or advise about protection call us or call in store to our horticulturalists.
Planting and sowing
Autumn is the perfect time to plant spring flowering bulbs like daffodils, tulips, and crocuses. Plant bulbs at the appropriate depth according to their instructions for vibrant spring blooms in pots and your garden beds. It is a great time of year to divide overcrowded perennial plants and transplant any plants that need to be moved to more suitable locations. Don't forget to collect seeds to use next year so you can grow your favourite flowers and vegetables again.
Please ensure to talk with one of our Team Members at Fernhill for more information and advice about all the tools you need to get ready for autumn.