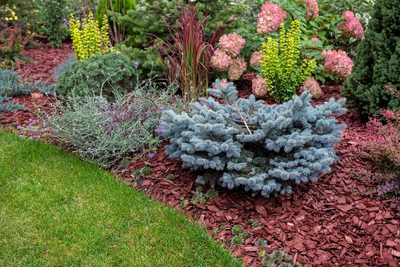 Did you know that autumn is a great time for planting and transplanting? The soil is still warm and moist. In terms of gardening, you can consider autumn as the second spring. And by planting (or 'potting') spring bulbs now, you'll have some early anticipation and a colourful start to the new gardening season! There are still plenty of enjoyable tasks you can do in your garden and on your balcony in October. We'll list them for you!
Don't forget: October 4th is World Animal Day!
On October 4th, it's World Animal Day, and you can treat your pets with treats, toys, or shelters and beds from our garden centre in Athlone. As it gets colder, you can also entice our feathered friends to your garden or balcony with nest boxes and feeding trays and silos. As a thank you, the birds will help you in your battle against slugs and caterpillars from the boxwood moth!
15 garden and balcony tasks
Plant spring bulbs: We have a large collection in stock now. So, be quick before they sell out. From daffodils and tulips to grape hyacinths, crocuses, and hyacinths. Plant these bulbs before winter arrives, as they need a cold period to bloom early in spring. You can plant them in pots, containers, in the lawn, and in the perennial border, so you'll surely find a spot for them.

Plant late bloomers: You can still plant a variety of things since, as we mentioned, the soil is still warm and moist enough. Think of late bloomers like stonecrop (Sedum), autumn asters, Japanese windflowers, monkshood (Aconitum), sneezeweed (Helenium), black-eyed Susan (Rudbeckia), and purple coneflower (Echinacea purpurea).

Plant ornamental grasses: In autumn, ornamental grasses shine in the low-angle light that falls on their flower spikes and sway gracefully in the wind. Even in winter, ornamental grasses ensure that you don't have to look at a dull, empty garden or bare terrace. There are plenty of hardy small ornamental grasses that also do well in a pot, like blue fescue (Festuca glauca) and Japanese forest grass or snake grass.

Plant evergreen plants and shrubs: Ivy, honeysuckle, barrenwort, periwinkle, (mini) conifers, and yew are just a few of the robust and beautiful evergreen plants and shrubs you can find in our garden centre in Athlone. And you can still plant them now.
Plant roses, (berry) shrubs, and small trees: Autumn is particularly the ideal time for planting shrubs and small trees. This way, they'll be well-rooted come spring. Roses and other (berry) shrubs are also available in autumn with bare roots, without a pot, and they are more affordable to purchase. Consider also shrubs and trees that bloom in winter or early spring, such as witch hazel, winter jasmine, and fruit trees.

Create an atmospheric, colourful garden or balcony table: Fill containers and pots with winter pansies, (bulb) chrysanthemums, heather, Pernettya, Skimmia, Gaultheria, and autumn cyclamen. A fun task to do with the children during the autumn holidays. Have the little ones also collect chestnuts, beech nuts, and beautifully coloured autumn leaves that they can place loosely or on a beautiful platter on the garden, terrace, or balcony table. A few ornamental cabbages and decorative pumpkins and gourds complete the display.
Dig up spent bulbs and tubers: Dahlias, tubers begonias, and gladioli should be dug up after the first frost when the leaves start turning black. Gently remove as much soil as possible from the bulbs and tubers and their roots and store them in a cool, frost-free, and dry place until next spring.

Secure climbing plants: Beautiful climbing plants like climbing roses, clematis, and honeysuckle have long shoots that can sway against the windows and may break during a storm or under a layer of snow. So, make sure to secure them well. In October, you can also prune all roses, including shrub and standard roses.

Care for the lawn or establish one: You can still establish a lawn by sowing grass seed or laying turf. You can reseed bare spots in the lawn. Keep mowing this month and spread some lime over the grass to prevent moss formation. Remove leaves from the grass and toss them on the compost heap or use them as cover material for frost-sensitive plants in the border or pots. Or toss them into a pile behind a bush in a sheltered spot: an ideal wintering place for a hedgehog, toad, or frog.

Maintain the pond: Remove fallen and dying leaves from the pond and stretch a net over the pond to catch falling leaves. Leave the leaves and any algae next to the pond overnight to give small animals and insects a chance to find a safe shelter.
Clear leaves from the gutters: This will prevent blockages and leaks.

Remove water trays and plates under your pots: From now on, there will only be more rain, and you don't want your plants to drown or risk the roots rotting.

Hang birdhouses: And take a look at the latest bird feeding trays and silos in our garden centre in Athlone. Do you already have nesting boxes? Clean them with green soap, warm water, and a brush.

Tidy up the shed, the garden shed, or the garage: After all, it's almost time to store away the garden furniture, frost-sensitive ornaments, and empty pots and containers. Also, check if your garden tools are clean and sharp.

October 4th, it's International World Animal Day. Our garden centre in Athlone has all sorts of treats, but also toys, baskets, shelters, and other necessities and accessories for your beloved pets. And plenty of bird feed for your feathered garden guests, of course.
Is autumn the end of the gardening season? Not at all, not by a long shot. There's still plenty to do in the garden and on the balcony in October. With our 15 fun and practical tips, you'll make autumn a delightful season. Visit our garden centre in Athlone soon.