Find your new favourite piece of garden furniture at Fernhill! Egg chairs have risen in popularity over the past years, so Fernhill's happy to cater to this fantastic trend. The love for egg chairs stems from the fun yet elegant design and the exceptional comfort they provide. Egg chairs are compact and can be used both inside and outside.
Visit the Fernhill store in Athlone or look at the available range in the online shop. Which egg chair fits your needs best? Pick at your leisure.
What is an egg chair?
Although the egg chair has made a name for itself over the past few years, many people still haven't understood what precisely an egg chair is. An egg chair is a chair with a half egg-like shape. This shape provides enough space for a human body in the upper half and usually comes with thick and comfortable pillows to offer ultimate comfort. The most common type of egg chair available is the open rattan hanging model, available in all kinds of shapes, sizes and colours. Egg chairs are suitable for both indoor and outdoor use.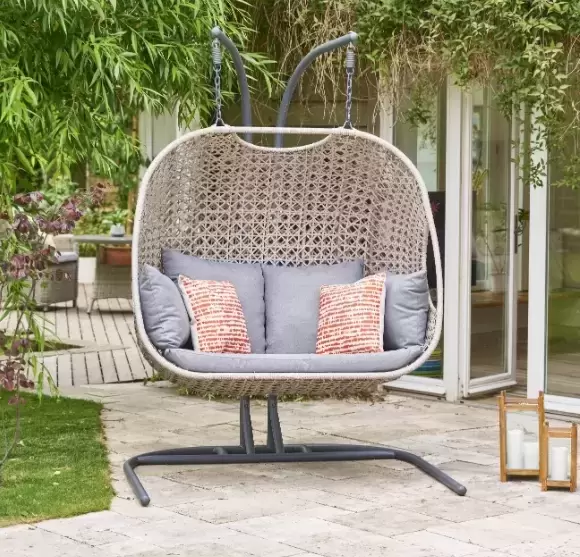 Different types of egg chairs
Egg chairs are incredibly versatile, and that's why we can find so many different models out there. As said before, most egg chairs are made of open rattan and come with a hanging device, allowing them to swing back and forth gently. However, various other types of egg chairs can be found for sale. Some different, very popular egg chair variants include:
Standing egg chairs. Instead of the soft rocking motion, you get with the classing hanging model, these provide more stability.

Two-person egg chairs. Whereas ordinary egg chairs are usually meant for one person, two-person egg chairs can fit an extra someone in.

Office egg chairs. These egg chairs have a more professional look and are meant for more practical use, like sitting at a desk to work.

Which egg chair is best?
Now that we've covered the various types of egg chairs that you can pick from, it's time to make a choice. Which type of egg chair is the best? Of course, the best kind of egg chair is different for everybody, and it's essential to choose based on your wants and needs. Someone with a prevalent professional life will maybe prefer an office egg chair, while couples would like to have a two-person model. Either way, the choice is yours, and the possibilities are endless!

Visit Fernhill for unique egg chairs
When it comes to egg chairs and other garden furniture, Fernhill in Athlone is the place to go. Are you looking for other gardening supplies? Visit the garden shop for the best BBQ supplies, bulbs and seeds, garden tools, gifts, and more! Do you have any questions? Never hesitate to ask our staff. We can be reached via telephone or e-mail. Visit our contact page for more information. See you soon at Fernhill!