Landscaping Services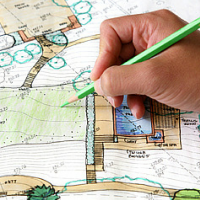 1

. Garden Design/ Landscaping Advice in Fernhill Garden Centre
We provide a 1/2 hour consultation service here at Fernhill Garden Centre. We provide a questionnaire that gets the client thinking on what they want from their garden or possible problem areas in the garden. The client fills out the questionnaire and brings it back into us with photos of the area and measurements of the area. With this information we consult with the client to produce a garden layout plan which the client can then follow easily.
It is essential that the client makes an appointment with us so that we will have time to dedicate our full attention to the clients plan.
2. Garden Design/ On-site Consultation/ Garden Doctor - starts from €100
When a client requires a more detailed design or specific information we highly recommend a site visit. Visits and consultations start from €100 (or free consultation here in the garden centre). We call out to the client's garden and give advice on-site as to what the client should put where.
The Client is provided with a rough outline plan and practical on-site information to equip them with enough information to get started and give them direction.
3. Standard Garden Design/ Landscape Plan - starts from €250
Often our clients prefer to have a full Landscape Masterplan for their gardens so that they have a plan to work off for the coming months and years. This allows the client to implement the plan as and when their time and budget allows. Ideally the client will have a site plan available for us to work off or we may have to survey the site. We will call out to the clients garden and assess the site while consulting with the client on-site. Then we give the client a few different options for their garden and they pick the different aspects of these to come up with a final Landscape plan.
At this stage the client can choose to implement the plan themselves or Fernhill Landscapes can quote for immediate implementation of the plan. If the client decides to implement the plan themselves Fernhill Garden Centre will provide any information the client may need along the way (Free of Charge) eg. Plant selection, Soil preparation, Planting etc.
4. Comprehensive Landscape Design - Price depends on size of site and clients brief
For a full landscape design and planting plan or for larger gardens/landscaping projects where more in-depth detail and construction is needed.
5. Planning Permission Landscape Plan - €150-€250
Other services we provide are; Large Tree Planting, Paving, Aggregate, Natural stone, Decking, Fencing, Bark, Turf, Water Features, Pots and Planters.
For further details regarding landscaping services and pricing, or to book your appointment today, contact Austin on 0872587316 or email austin@fernhill.ie.