Christmas BBQ demo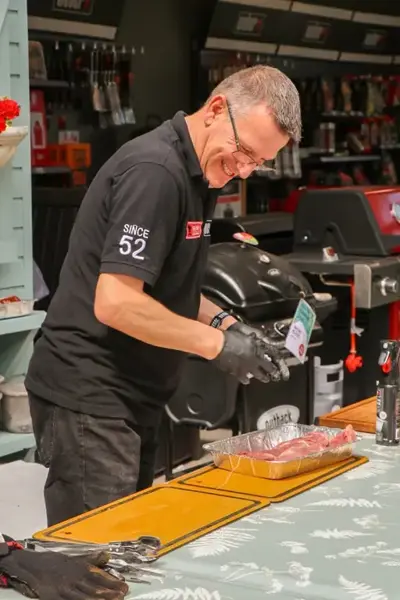 By Weber Chef Mark Doe
Get ready to ignite the festive spirit with a sizzling experience like no other! Join us at Fernhill for an exclusive Christmas BBQ demo featuring the culinary expertise of Weber Chef Mark Doe. As the holiday season approaches, Chef Mark will showcase mouthwatering techniques and delectable recipes that will transform your Christmas feast into a celebration of flavours. Don't miss this opportunity to elevate your BBQ game and create unforgettable moments. See you at the Christmas BBQ demo – where taste meets tradition at Fernhill!

Menu
Roast turkey crown with cranberry and bacon stuffed legs
Smoked pigs in blankets
Potato and leek soup with smoked mascarpone and flat bread
Sticky toffee pudding
Brie and cranberry Bruschetta
Join our Christmas BBQ demo by Weber Chef Mark Doe
Stay tuned for the culinary event of the season! The exact timings for our Christmas BBQ demo by Weber Chef Mark Doe will be announced soon. Whether you're a seasoned grill master or just beginning your journey into the world of BBQ, Chef Mark's expertise will guide you through a festive culinary adventure. Mark your calendars, and get ready to infuse your holiday season with the irresistible Weber BBQ. We can't wait to share this delicious experience with you at Fernhill – timings will be revealed shortly!
Date: